MONBENTO | Original Graphic Lunchbox - Blossom
Monbento's Original two-tiered bento style lunchbox, the first-born product created by Monbento. It's the ideal partner for your daily lunches at the office, for your picnics and other meals on-the-go. The design and high-quality material ensures a long-lasting use and make it unique and also distinguishes itself with a soft touch finish.

The MB Original is a two-tiered lunchbox with an extra food cup inside to separate food items. There are intermediate lids that separate the two boxes while keeping everything secure inside. 


Microwave-safe
Dishwasher-safe
Freezer-safe
Airtight
Soft touch
BPA-free
BPS-free
Food grade
Components

2 containers, 1 lid (PBT)
2 intermediary lids (PP)
2 caps + seals (Silicone)
1 elastic band (elastane)
1 food cup (PP)
All monbento lunch boxes come with a 3 year warranty.

Dimensions
Product dimensions: 18.5cm x 9.4cm x 10cm
Capacity: 2x500 ml = 1 L



Packed lunch – reinvented
for freedom lovers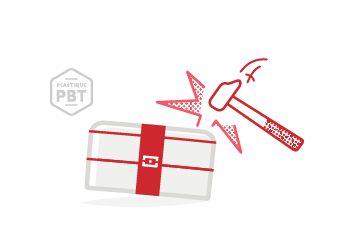 SUSTAINABLE
Made from PBT, a high quality plastic known for its durability, the MB Original will go with you on all your adventures. Its robustness will prove a loyal companion to your outdoors eating!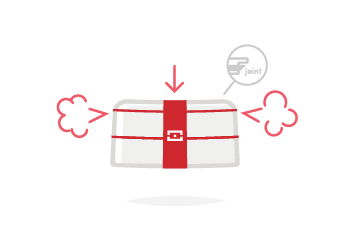 AIRTIGHT
No more dramatic mishaps involving dressings and brand new cream-coloured trousers! Thanks to its internal lid fitted with a silicon hinge, the MB Original is completely airtight. Leaving you to enjoy the tranquillity of a meal perfectly protected inside its lunch box!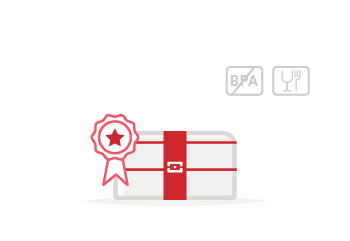 SAFE
BPA* and BPS free, the MB Original bento boxes hold all your light meals and snacks without any health risk! They have even gone through the TÜV and SGS laboratories, and passed the LFGB and FDA certifications with flying colours, guaranteeing the high quality of the materials expected of a quality lunch box.
Choosing Monbento means choosing a beautiful product that you'll want to use and show off, which matches your lifestyle and values, and that can even be personalised in line with available features.
Choosing Monbento, means opting to bring your own food when you eat away from home. A time- and money-saving practice that becomes an absolute pleasure when all its limitations are overcome thanks to our tailor-made "companions".
Choosing Monbento means healthy eating because you control what's in your lunch and by eating home-cooked food… It also means avoiding waste by reducing the use of throwaway containers and packaging that add to the trash mountain.
We are working hard to despatch all orders the same day, all orders received before 2:00pm are being shipped within 24-36hrs from Bowral, Australia.
Local Pickup from Bowral, NSW is available Mon-Fri up to 5pm with a 1hr collection time. We are located at 14 Loftus Street, Bowral NSW 2576 - Ph: 02 4879 9373
EXPRESS Orders are guaranteed processed the same day if ordered prior to 2.30pm, as these always take priority.
(In the rare occasion this is not possible - we will advise you within an hour, note this does not include weekends or NSW public holidays)
------------------------------------------------------------------------------
Free standard shipping on all orders $99.00 and over Australia-wide*. (MAINLAND ONLY)
Australia Wide Postage Rates (Mainland Only)

*Flat Rate Standard Shipping $0.00 – $98.99:       $ 9.95 
*FREE Shipping on orders over $99.00:                   FREE
*Flat Rate EXPRESS SHIPPING $0.01 and up:       $19.95 -
*Please note list of postcodes below that includes remote Postcodes that this does not apply to for bulky goods.
Listings with a note at the bottom of the product information indicating only for sale with pickup from our Bowral NSW address, may in some circumstances be able to be shipped, however due to the bulky oversize nature, you will need to contact us prior to ordering for a freight quote. Once approved and charged, we can then ship accordingly if this case by case arrangement meets your satisfaction requirement. 
------------------------------------------------------------------------------
 Express is 1-2 days* delivery to Eastern States for small items. Large & heavy orders may take longer due to a Road Express Service. Express is by far the fastest order processing and service to your area.
Shipping to WA and NT will take longer, especially remote & regional classed areas, if in doubt, please email us for shipping times. 
------------------------------------------------------------------------------
LOCAL PICKUP NOW AVAILABLE
We now offer local pickup from 14 Loftus Street, Bowral, NSW 2576 from Mon-Fri 8am - 5pm. 
After payment and order confirmation, we will get your order ready, and send you another email indicating it is ready for collection. 
Please reply to this email with an ETA so that we can ensure everything is 100% ready to pick up seamlessly. 
Local Pickup is not available on Weekends, or NSW Public Holidays
 ------------------------------------------------------------------------------
Missed Deliveries!
If your order is returned to sender and comes back to our warehouse through an incorrect address provided/ missed delivery or non-collection from a post office etc. you will be required to pay a subsidised shipping fee to have this sent out again. Startrack Express do not return to the closest LPO automatically.

If you want to cancel it after it has been despatched, you will also need to cover the expense incurred to despatch your order - this includes the original shipping, re-delivery attempts and/or RTS charges that are charged back to our account.
Once your order is despatched, providing you logged correct email address, you will get an email from us and the carrier with tracking details. Please keep an eye out for this.
------------------------------------------------------------------------------
Impact on shipping:
Australia Post are working to ensure parcels are delivered as quickly and safely as possible. Australia Post have also taken extra measures to protect the health and safety of customers and their staff by reducing physical interaction.
Tracking: If your order is being sent with tracking, there are a few orders that are currently only receiving a scan event when they reach their destination state/distribution centre. The tracking tool on the Australia Post website can also provide an estimated arrival date and will give you an update if there are any additional and unforeseen delays. If your parcel appears not to be moving, please be assured that Australia Post are still working hard to get your parcel to you as quickly as they can!
Updates to the Australia Post response and procedures can be found via the link below:
During Christmas or other holiday periods including public holidays, we see couriers receiving a backlog of orders etc, and they do not deliver on weekends. Delivery times may be increased during these periods.
When Express Shipping is paid for, we ship via an Express Service with no exceptions, this can either be Road or Air depending on size and weight of parcel. Once the parcel leaves our door, it is out of our control, and all tracking follow-ups should be followed through with the courier using the tracking number provided, especially if there has been a shipping delay.
We are unable to provide a refund on EXPRESS SHIPPING if there has been a delay with the Courier. It is out of our control. If we have made a mistake on our end and sent with the wrong service incorrectly, yes we will refund that for you. 
International Postage Rates
$23.95 for orders to NZ that weigh under 2kg and under 1m in length - This is Express Service. - 3-12 business days delivery. If your parcel will be over 2kg, please email us for a shipping quote prior to purchase.
Other countries, please ask us at sales@botanex.com.au
------------------------------------------------------------------------------
A sales order is created immediately after we have received your payment. You will then receive an e-mail with your order confirmation and the information needed to track your order online.
In the very rare event of an item out of stock, you will be notified by phone or e-mail
NOTE: For a swift delivery, we recommend you to provide an address where someone is home to receive and sign for the package. Our delivery companies mainly deliver to physical addresses on items over 1.05m, not to P.O. Boxes - small items are fine to go to PO Boxes. If we require further shipping information, we will gladly call you to clarify.
If you will not be home, you are welcome to leave Special Instructions that the parcel can be left in a safe place for you with no signature!
We also require a telephone number in case any problems should occur during delivery. Only after you have communicated to us your shipping details, as well as a telephone number can we ship your order.

Requesting authorisation to leave with no signature removes our responsibility to reimburse on any lost or damaged orders.
We assure you that this personal data is strictly used for shipping purposes, our own marketing and follow-up only; under no circumstances do we sell or disclose to any third parties that may lead to commercial gain.
------------------------------------------------------------------------------
*POSTCODES THAT MAY REQUIRE AN EXTRA FREIGHT QUOTE INCLUDING BUT NOT LIMITED TO:
Please contact us prior to ordering.
| | | | |
| --- | --- | --- | --- |
| 0822 | 4852 | 6225 | 6439-6440 |
| 0839 | 4871 | 6429 | 6445-6528 |
| 0846 | 4872 | 6430 | 6530-6532 |
| 0847 | 4468-4470 | 6431 | 6535-6537 |
| 0852 | 4477-4478 | 6438 | 6553-6628 |
| 0853 | 4480-4482 | 6441 | 6631-6632 |
| 0854 | 4485-4486 | 6442 | 6635-6646 |
| 0862 | 4488-4491 | 6443 | 6705-6712 |
| 0872 | 4694-4699 | 6444 | 6713-6714 |
| 0875 | 4704-4715 | 6630 | 6715-6720 |
| 0800-0821 | 4717-4719 | 6701 | 6721-6722 |
| 0828-0836 | 4721-4739 | 6723 | 6724-6726 |
| 0837-0838 | 4741-4746 | 6743 | 6728-6740 |
| 0840-0845 | 4751-4809 | 6753 | 6751-6752 |
| 0850-0851 | 4810-4815 | 6000-6032 | 6754-6770 |
| 0860-0861 | 4817-4819 | 6033-6035 | 6798 |
| 0870-0871 | 4820-4825 | 6037-6044 | 6803-6997  |
| 0880-0886 | 4828-4830 | 6050-6083 | 7000-7466 |
| 0900 | 4849-4850 | 6090-6112 |   |
| 0906-0909 | 4854-4865 | 6113-6126 |   |
| 4472 | 4868-4870 | 6147-6160 |   |
| 4475 | 4873-4877 | 6162-6172 |   |
| 4492 | 4878-4879 | 6173-6221 |   |
| 4493 | 4880-4888 | 6223-6224 |   |
| 4702 | 4890-4895 | 6226-6233 |   |
| 4740 | 6036 | 6236-6428 |   |
| 4750 | 6084 | 6432-6433 |   |
| 4816 | 6161 | 6434-6437 |   |